Funding Our Dreams Forward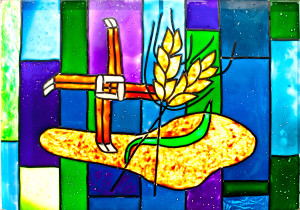 Financially supporting St. Brigit is about being grateful, responsible stewards of the gifts we receive from God. The tradition of giving back to God and to the church comes from the Biblical practice of "tithing," which means to give back a tenth of our earnings to God (Numbers 18:26). The Episcopal Church sees giving as more than simply contributing money to the church; it's also about contributing time and talents, and volunteering for ministry and mission. It's about reaching out to build relationships from a perspective of abundance instead of scarcity.
How can you share your assets to further the work of God taking place through St. Brigit? How will you contribute to the ongoing life of this community? Newcomer or old-timer alike, we invite your full participation in our common life together.
We want to thank each and everyone of you who have sent in and are continuing to send in their estimate of giving for 2023. It is very encouraging to know that we have the backing of not only our congregation, but the Friends of St. Brigit Episcopal Church as well.
However, we are still not at our goal to cover expenses for 2023, so if you have not yet submitted an estimate of giving or are able to make an additionalcontribution to the church, your help is needed now more than ever. These pledges and gifts help us in our efforts to reach out and provide the much needed help to our community in these uncertain times. And we so appreciate your willingness to help us be the hands and feet of God in service to provide that help. Thank you again and May God Bless You as you have helped us to bless others!   
The Staff and Congregation of St. Brigi
Gathering Together / Growing Stronger
In the fall of 2022, St. Brigit is in recovery from isolation and loss during two years of the Covid pandemic. At the same time, St. Brigit is experiencing the stirrings of renewed life and hope as we look forward to a future that God is preparing for us.
Shaping our future together, St. Brigit Bishop's Committee Community (BCC) and the Financial Stewardship and Vision work group (FSV) are looking ahead to a season of Gathering Together and Growing Stronger.  We pledge to work together, with all members of our faith community, to live into those two threads of our common life.  Gathering Together / Growing Stronger.
We recognize that for many, this new season means dealing with shared grief – at the deaths of people dear to us, at the losses inflicted by Covid and the community's responses to it, at the evaporation of "normal" in the face of so many changes, at the uncertainty of living into a "new normal" that doesn't feel normal at all.
Gathering may have different meanings for those in our community. We'll be gathering as a community, in familiar patterns like worship and recovered traditions of fellowship. We'll also be gathering what seem like broken pieces of former practices, to create something new – like a mosaic that puts together broken pieces in new and beautiful patterns. We'll gather all the resources we can find – our assets like money and buildings, and more: our friends in the wider community, our relationships with our neighbors, our ability to embrace the people to come to join us in work and fellowship and worship. As we bring those seemingly unmatched fragments, together we'll create something that is more than the sum of its parts.
That process – undertaken with love and intentionality and a collaborative spirit – will tap strengths we don't even know we have.  We'll be strong at the places we thought were broken. And we'll share our strengths with one another.
That's the hope and the vision that our faith in God – Father, Son, and Holy Spirit – plants within us. And as we share our lives and our faith, we will grow. Together we will gather our resources and grow our vision of what God can do with us, for us, and through us.
Join us, the people who are St. Brigit, as we offer our money, our energy, and our love to support our community of faith.
Respectfully submitted by Demi Prentiss