Christ's hands are our hands in the world today.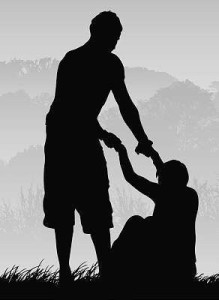 The St. Brigit community faithfully works to meet the needs of the Tri-Town Community by living into one of our core values: "A strong emphasis on outreach to the community in Christ's name". Below are some of the ways St. Brigit works to reach out to others.
Brigit's Bounty Community Resources, a Jubilee Ministry
We partner with non-profit Brigit's Bounty Community Resources whose garden on our property provides low-cost summer camps, activities for local elementary schools, and mentoring for local youth. The garden also donates food to the community through Meals on Wheels, The Weld County Food Truck, and individual donations.  Click here for more information.
Carbon Valley Help Center
The Carbon Valley Help Center, located in Firestone, provides emergency food assistance and non-profit referrals to families in need. Our founding vicar, Felicia SmithGraybeal, was instrumental in starting the CVHC and served as its first Board President. St. Brigit periodically holds food drives as well as giving financially to support the work of the Carbon Valley Help Center.
I Have a Dream Foundation
St. Brigit members support the Dreamer class at Thunder Valley K-8 financially as well as through providing creative programming, purchasing Christmas presents, and hosting the annual Christmas party. The Dreamer class also spends time working in the Giving Garden during the summers.
HELP Portraits
St. Brigit has, for a number of years, provided free professional portraits for families in the community. This activity is in December and includes a chance to meet with Santa and Mrs. Claus, and receive a free picture with them as well.
Labyrinth
The Labyrinth, a prayer and meditation aid, is located to the east of the St. Brigit parking lot and is available to anyone in the community to walk at any time.  For more information click here. 
Meeting space offering
St. Brigit provides meeting space for groups who are in need of a central location to meet in Frederick. To view our facility's availability, see our facility calendar here.