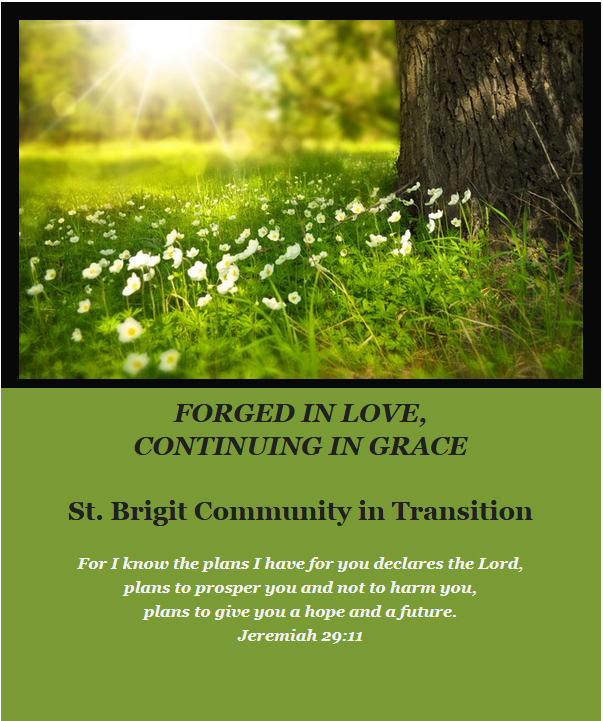 Each week or each month as the information is available, this will be the page where you can access updates on the process of selecting a new priest for our Mission Church. So here goes…..
April 29, 2019
Author: Peggy Nelson, Bishop's Warden
FAREWELL TEA PARTY FOR KIDS AND YOUTH
On Saturday, May 4 at 11:00 a.m. there will be a fun-filled TEA PARTY. All kids and youth are invited to meet with Rev. Felicia to have lots of goodies and to say a fond Farewell.
As we talked about in our last "Parents and People Who Care About Our Kids" meeting, some of the children will be just fine with knowing Felicia is leaving and others will have their own concerns. This is a joyful occasion. Felicia's hope and that of the Transition Team, is the day will be a fond memory for all that come to the church on Saturday.
Fun, Food, Frivolity ….a blessed way to say Farewell.
PARENTS AND PEOPLE WHO CARE ABOUT OUR KIDS
As we are filling out the responsibilities and roles during this Transition Time, we welcome Libby McQuarie to take on the task of Interim Parent Liaison. Libby will be the point person for relaying any cares or concerns to the Bishop's Committee Community as we want to be in the know about both the needs and the experiences of the parents regarding Sunday School, Youth and whatever you feel that needs to be addressed.
Normally, concerns would be expressed to the Priest and then taken up by the BCC. During this time without either an Interim or Priest, please support Libby so the BCC can be a better support to all of you.
Amy Thoming continues leading the Sunday School Ministry as does Lyle SmithGraybeal for the Youth. Juanita Redfield does a great job with the lessons through e-mail and we anticipate this will continue. It is a vital ministry for the Sunday School kids and Youth. Thank you Amy, Lyle and Juanita.
SUNDAY, MAY 5: A FAREWELL SERVICE FOR FELICIA
Several people have asked if there will be a basket for cards addressed to Felicia. Yes, there will be a basket in the breezeway if you would like to leave a card. Also, it has been requested that a space be provided where individual people may leave a small gift. That space will be next to the card basket.
The service for May 5 will include a graduation celebration for Chase Redfield, a Liturgy of Departure and The Irish Blessing followed by a POT LUCK lunch.
CHURCH GIFT FOR FELICIA
On the table under the map in the breezeway are recipe cards and a sheet to write your thoughts on how God has impacted your life at St. Brigit.
Nancy Trubee and the Transitions Team are putting together a recipe book with the writings interspersed with the recipes. This was at Felicia's request as it relates back to her sabbatical in Ireland where the theme was Hospitality. Time is short…so get your recipes and thoughts to Nancy quickly.
PASTORAL CARE
When anyone in the congregation needs pastoral care for themselves or you are aware of someone at St. Brigit needing something, please contact DEACON BOOKIE at 303/918-9119 or nanceybookstein@gmail.com. She will arrange for the pastoral care either with her presence or by contacting the appropriate priest for the care.
LAY MINISTRY CARE TEAM
We are so blessed with Barb Miller leading the Healing Prayer Team. Barb will be coordinating with specific people on the Healing Prayer Team when there is a need for prayer outside of the church or within the congregation. Please contact BARB MILLER at 303/588-4556 or millertyme1033@gmail.com with your own need or that of others of whom you are aware.
PROFILE/PORTFOLIO TEAM
Writing continues on the 12 questions.
TRANSITIONS TEAM
Please keep the Team in your prayers…this is a very busy time for them with planning and bringing to fruition all the events related to Felicia's Farewell. They are busy, busy!
SPRING HAS SPRUNG! God is putting on a beautiful show for all to rejoice in and enjoy.
April 22, 2019
Author: Peggy Nelson, Bishop's Warden
Profile Team: Paul Kelly, Chair reports they are halfway through their first project of writing the Profile. Questions 4, 5,and 6 have been worked on and on APRIL 28, the group will begin their process for questions 7, 8 and 9. The members of this group are: Paul Kelly,Sharon Fasano, Chelli McGaughey, Sean McGaughey, Barb Miller, Nancy Trubee, Alicia Florin, Rick Hess, Jeff Neusma, Steve Bross and Eileen Bisgard. Please remember them in your prayers. This is not an easy process and requires a great deal of thought and prayer as they attend to the questions that need to be answered in describing St. Brigit to potential priest candidates.
Transition Team: There is so much happening with the Transition Team and it is very exciting.
Rev. Felicia was planning a time to say farewell to the children and the Transition Team offered to help her with the event. WOW! The children will be treated to a TEA PARTY on Saturday May 4 at 11:00 am. This will be a special time for the children to enjoy some time with Felicia and to say goodbye on both their parts. Nancy Trubee and her team can be contacted if you have any questions.
Also the Transition Team is working on the FAREWELL POTLUCK May 5 after church. PLEASE REMEMBER TO BRING A DISH FOR THE POTLUCK . IT DOES NOT NECESSARILY NEED TO BE A DISH THAT COMES FROM ONE OF THE RECIPES YOU HAVE SUBMITTED.
RECIPES: Nancy is still collecting recipes along with your thoughts on "How has your relationship with God been impacted by your life at St. Brigit's?" There will be paper and pen available at the Potluck for you to write down your thoughts. They will then be interspersed with the recipes. A temporary book will be given to Felicia with the formal bound book with more recipes and thoughts at a later date.
MAY 5, 2019: This will be the final Sunday that Rev. Felicia will be the priest
at St. Brigit. There will be a Farewell Liturgy as part of the service followed
by the Pot Luck.
APRIL 8, 2019
Author: Peg Nelson, Bishop's Warden
CLARIFICATION: I apologize for the lack of clarity in the previous update regarding the process for choosing an interim priest and a priest for St. Brigit church. I have received the following clarification for the BCC and the congregation at St. Brigit:
Regarding A Priest: Ann Fleming, Missioner for Transition Ministry, and the Bishop will work together to recruit a priest they believe would be a good fit for St. Brigit. Once they have at least one candidate to move forward, the Bishop's Committee Community (BCC) will interview that candidate to either confirm or disconfirm that appointment. If the appointment is confirmed, the BCC, the priest and the Office of the Bishop will work together to write a Letter of Agreement.
In the meantime: While we work to complete our profile and other materials that define who we are and what we need in a new priest, we will using supply priests and an interim priest may be appointed.
Interim Priest: If an interim is appointed, s/he is also only appointed after the BCC has had an opportunity to meet and interview the interim priest. The Office of the Bishop does not ever randomly assign or appoint clergy without the confirmation and agreement of the leadership of the congregation.
Clarification: The Bishop and Ann Fleming find and vet the candidates, then the BCC either confirms or disconfirms the candidates.
Responsibilities During Transition of the BCC Wardens:
There are two Wardens on the BCC: Bishop's Warden ( also known as the Senior Warden) Peg Nelson and the People's Warden (also known as the Junior Warden), Susan Kirmaier. While the Treasurer is not designated a Warden, he is integral to the operation of the BCC and the church in times of transition. Your BCC Treasurer is Paul Kelly.
The Episcopal Church in Colorado's pamphlet titled Leave Taking gives the following description:
"In the absence of a vicar(rector) or interim pastor, the wardens are canonically responsible for the worship, finance, property and administration of the mission (parish)." At our upcoming BCC meeting, we will be clarifying these roles as they impact the wardens.
UPDATE FROM PROFILE/PORTFOLIO COMMITTEE: Chair Paul Kelly
Part of the process in finding an interim Priest and replacement Vicar is to develop two documents that will help us find the right match between our needs and the capabilities/interest of potential replacements. A team has been formed to answer 12 specific questions required by the Diocese. The team will address 3 questions per week and expects to have the questionnaire completed by the end of May. This gets posted nationally as part of the search.
In addition, materials will be gathered to develop a profile of our worship community that tells the story as we want to tell it and provides information to prospective Vicars about who we are and what is important to us. This will likely be completed in July.
BLESSINGS, Peg Nelson, Bishop's Warden
MARCH 25, 2019
Although it has only been two weeks when we heard from Felicia that she would be leaving in May, two areas are already in process.
Supply Priests: Deacon Bookie has a list of supply priests and has some replies already for May and June. She is expanding the list to include July. Deacon Bookie is the point person for supply priests. Duties of Supply Priest: A Supply Priest has the responsibility for the Sunday service only. This person will not be here during the week and will not be available to serve in any other capacity than the Sunday service. They are paid a per diem for their work and there is money in the budget for supply priests. If for some reason, we need a supply priest beyond the current budget for supply, we have a reserve fund which we feel will cover the cost.
Pastoral Care: Deacon Bookie will lead a newly formed Pastoral Care Team which will include members of the Healing Prayer Community. Deacon Bookie is also talking with a priest she is requesting to be available in a situation where the Pastoral Care Team needs support or direct contact with a parishioner or a parishioners family. There will be more information about this in the coming weeks.
BISHOP'S COMMITTEE COMMUNITY ( BCC)
Several people have asked about the responsibility of the BCC in the process of supply priest, interim priest and a priest called to lead the congregation of St. Brigit Episcopal Church.
1. St. Brigit is a MISSION and not a PARISH. There are some similarities and some differences in the process for choosing an interim priest and a priest to lead thecongregation forward. One difference is there is not a search committee in a Mission.
2. The biggest difference is the role of the BCC. The Episcopal Church is NOT a democracy . The BCC is the group that has the interface with Ann Fleming and the Diocese. With a new Bishop ( Bishop Kym) coming into the Diocese at the same time we are in transition ourselves, we are anticipating that there will be some confusion and delays but our prayer is that all will go as smoothly as it possibly can. Please hold your BCC members in prayer as they will be holding a great deal of this confusion and working through it themselves. The Bishop makes the final decision on a priest.
The BCC is tasked with two decisions – a) to recommend a person to be the priest at St.Brigit. The Bishop makes the decision whom to call to be our priest. b) to accept or reject an interim priest brought forward by the Diocese ( Ann Fleming). If the BCC rejects the interim recommended to us, we will then be sent another person..one at a time. The only way to do this is to be as TRANSPARENT as we can be given confidentiality and personnel legal matters. In order to promote transparency, we MUST have participation from the people of St. Brigit.