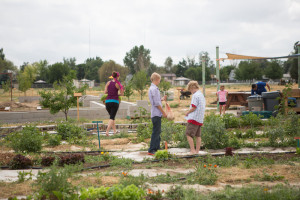 St. Brigit hosts Brigit's Bounty Giving Garden on its property and participates in outreach through its efforts. Brigit's Bounty Community Resources (BBCR) was established in 2011 and is a non-profit community service organization that has been helping residents of Firestone, Frederick, and Dacono. Brigit's Bounty Giving Garden is a part of this non-profit that works to improve their neighborhoods through community gardening, healthy food access and educational opportunities for children for more than two years.
Brigit's Bounty helps families by providing vegetables that have been grown locally and organically. The garden is dedicated to working with children to foster an understanding of where food comes from and other hands-on-learning through the rewards of gardening.
The mission of BBCR is: To provide education, training and resources toward transforming the lives of individuals and strengthening the Carbon Valley community. You can find BBCR's web site by going to brigitsbounty.org.