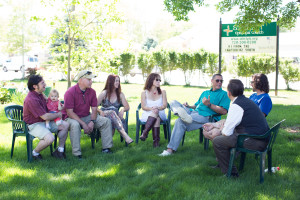 Spiritual Growth is a priority for those who attend St. Brigit.  A wide variety of opportunities allow parishioners to join groups for prayer and fellowship, theological education, Bible study, social ministry or time on a retreat. Please check the church on line calendar for upcoming adult faith formation opportunities.
Several of the options offered over our years together have been:
-Becoming Belonging Believing:
An introduction to the Christian Faith, the Episcopal Church, and the St. Brigit community.
This class is offered twice a year.
-A 3 week class on Forgiveness
-A 6 week class on the Lord's Prayer
-A 3 hour Introductory workshop on the Spirituality of the Labyrinth
-Weekly Lenten and Advent studies
-Celtic Spirituality Series
-Jesus Movie Nights
-Compassionate Communication; A Scriptural Exploration
-Bible over Beer (Bible Study)
-Painting The Stars: Exploring the promise of evolutionary Christian spirituality by celebrating the communion of science and faith