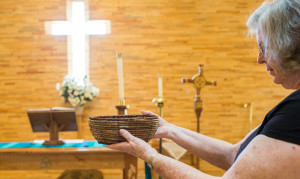 There are several ways to donate financially to St. Brigit Episcopal Church.
Collection plate. When you worship with us, feel free to contribute during our service as the offertory hymn is played. Baskets will be passed.
Online donation. We use

dwolla.com

to receive funds paperlessly. It is free to sign up and use the service to send us donations. If you sign up using this

link

, Dwolla gives you a $5 credit toward their already low $0.25/transaction fees. You link your financial account to dwolla, so we never know your personal information. Once you're set up, simply send your donations to

dwolla@stbrigit.org

. It is that easy! If you choose, you can select one-time, weekly, or monthly donations.
Check. Please send to our postal address: 
St. Brigit Episcopal Church 
110 Johnson Street 
Frederick, CO 80530
We use funds for church operations — and for outreach opportunities in the Tri Town area, the county, and state. Be assured that we are as responsible with your money as you are, and we take our own stewardship very seriously. Thank you for your generosity!